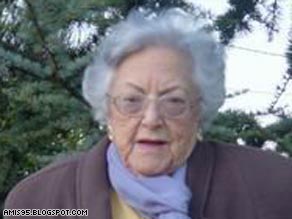 I want to express my respect for this woman, who died at 97 years young on Wednesday. Sra. Lopez was a Spanish grandmother who dubbed herself the 'world's oldest blogger'. Much like myself, she blogged about the personal - her illness, and what it was like to age - and the cultural/political - opposing Generalissimo Franco's regime as a young woman, and modern politics such as Iran's nuclear ambitions and Basque separatism. She began her rise to online stardom when her grandson set a blog up for her as a 95th birthday gift. Many written entries and vlogs later, she'd become something of a celebrity, including a visit from the Spanish Prime Minister. This woman has led an incredibly interesting life and to be so tech savvy at 97 to upload Youtube videos and maintain a blog is truly impressive.
You can find the CNN story on Lopez's death by
clicking here
.
You can find her blog by
clicking here
.